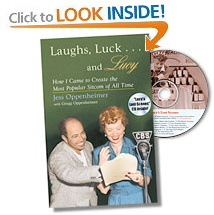 Laughs, Luck...and Lucy:
How I Came to Create the Most Popular Sitcom of All Time
by Jess Oppenheimer
with Gregg Oppenheimer




Trade Paperback Edition:
6 in. x 9 in. - 300 pp
300 pages + 72-minute Lucy's Lost Scenes Audio CD
Syracuse University Press:
ISBN: 0815605846
$19.95 (FREE SHIPPING!)
Personally autographed by
Gregg Oppenheimer
The Elizabeth Glaser Pediatric AIDS Foundation is a 501(c)(3) non-profit organization. For further information, call 1-888-499-HOPE. Federal tax laws require us to provide you with a good faith estimate of the tax-deductible portion, if any, of your payment (the amount your payment, less the fair market value of the goods you receive). Because the purchase price of this item is not more than its retail price, no portion of the purchase price is deductible as a charitable contribution. However, any optional donation made in addition to the purchase price is tax-deductible to the full extent allowed by law.
Questions?
Email gregg@lucynet.com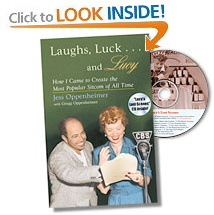 Get your copy of Laughs, Luck...and Lucy
NOW,
RISK-FREE,
with
ALL PROCEEDS TO CHARITY!
Full of never-published Lucy scripts and photos!
Only $19.95 (FREE SHIPPING!)
First Free Bonus: Your copy of Laughs, Luck...and Lucy will be personally autographed by Gregg Oppenheimer.

Second Free Bonus: Each copy of Laughs, Luck...and Lucy comes with a 72-minute Lucy's Lost Scenes Audio CD starring Lucille Ball in a full cast production

Third Free Bonus: You'll also receive an exclusive, limited edition "Vitameatavegamin" bookmark!
MONEY-BACK GUARANTEE!
If Laughs, Luck...and Lucy doesn't quickly become one of your favorites, simply return it in new condition for a FULL REFUND!
100% of the purchase price for your autographed copy of Laughs, Luck...and Lucy benefits the Elizabeth Glaser Pediatric AIDS Foundation — the leading national non-profit foundation supporting critical pediatric AIDS research worldwide.
See what's on the CD!
"Wonderful! I never wanted it to end!"
- Lucie Arnaz
"This book is amazing! "
- Jenna Elfman
"A must-have for true Lucy lovers."
- TV Guide Online
"Thoroughly enjoyable. A revealing glimpse into the world of radio and TV comedy and an eye-opening look at the creation of I Love Lucy."
- Leonard Maltin, film critic, Entertainment Tonight
"A rich entertainment resource. Actual TV scripts . . . and a CD with audio excerpts from both I Love Lucy and its predecessor radio show, My Favorite Husband."
- BookWeb
"A first-hand account of American broadcasting history . . . . delivered in the engagingly humorous idiom of the most influential TV comedy writer of his generation."
- Journal of Film, Radio & Television
"Intimate glimpses of the world's favorite redhead -- and of a bygone era as wide-eyed and irrepressible as Lucy herself."
- Total TV
"Great reading. The biography of a creative and funny man, a textbook on writing scripts and producing a television series, [and] an insider's guide to the entertainment industry."
- Book Buzz
"I just love this book (and CD). What a great gift!"
- Jan Wahl, KRON-TV