Script and performance rights now available from Next Stage Press!

The hilarious true story behind America's most beloved comedy. Playwright Gregg Oppenheimer—son of I Love Lucy creator Jess Oppenheimer—spins this witty, fast-paced tale of Lucy and Desi's battles with CBS
with as much heart and humor as an episode of I Love Lucy itself.
"Full of bright nostalgia and insider insights."
- AudioFile Magazine
"So much more than a biographical drama; it's part love story, part timely examination of how women were treated in show business in the 1950s."
- RadioTimes
"Everybody loves Lucy, and this was definitely the consensus at Thursday night's performance of LUCY LOVES DESI. This creative radio play, written by Gregg Oppenheimer, the son of Jess Oppenheimer, producer and head writer of I Love Lucy, brought the laughs, the history, and star power..."
- Broadway World (Arkansas)
"This play [has] as much heart and humor as the series itself... A captivating thrill from start to finish, a nostalgic journey which was over much too fast."
- SWVA Today
Download
the full-cast recording of the
L.A. Theatre Works WORLD PREMIERE PRODUCTION!
---
Hear the World Premiere Production
Download the full-cast 2018 world premiere performance of
LUCY LOVES DESI: A Funny Thing Happened on the Way to the Sitcom for only $4.95!
Broadcast on public radio as "I Love Lucy: A Funny Thing Happened on the Way to the Sitcom," it stars Sarah Drew (Grey's Anatomy) as Lucille Ball, Oscar Nuñez (The Office) as Desi Arnaz, and Seamus Dever (Castle) as Jess Oppenheimer.
"Marvelous performances. Oscar Nuñez and Sarah Drew capture every nuance." - AudioFile Magazine
---
---
---
Get the Book that Inspired the Play
Download Jess Oppenheimer's humorous memoir, Laughs, Luck...and Lucy, co-authored by his son, Gregg Oppenheimer. Behind-the-scenes stories and photos, rare Lucille Ball audio, and the only I Love Lucy script that Lucy and Desi ever refused to perform! The Kindle e-book edition is only $2.99, with all royalties going to the Elizabeth Glaser Pediatric AIDS Foundation! Prefer the paperback edition? Get your own personalized autographed copy directly from Gregg Oppenheimer (with ALL PROCEEDS donated to charity), or order from Amazon.

"Wonderful! I never wanted it to end!" - Lucie Arnaz


"A must-have for true Lucy lovers." - TV Guide Online
NOW AVAILABLE as an Audible Audiobook! Including Lost "I Love Lucy" scenes and more! Audiobook proceeds benefit the ENTERTAINMENT COMMUNITY FUND--providing much needed support for workers in ALL branches of the performing arts!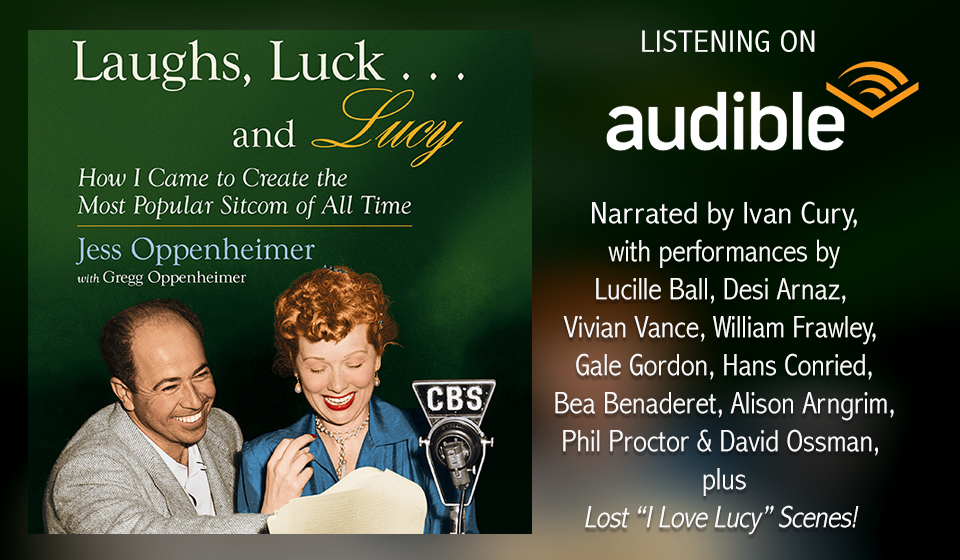 ---
---


CONGRATULATIONS TO L.A. THEATRE WORKS
ON THE SUCCESS OF ITS 21-CITY NATIONAL TOUR! Read the rave reviews from Broadway World and SWVA Today!



The first national touring company starred Ellis Greer and Bill Mendieta as Lucille Ball and Desi Arnaz, Gerard Marzilli as Jess Oppenheimer, Laila Ayad as Vivian Vance,Tom Virtue as William Frawley, and Ozzie Rodriguez as Harry Ackerman.
Directed by Brendon Fox.


---
---
---
Performances
1/14/23 - La Mirada, CA (La Mirada Theatre for the Performing Arts)
---
1/17/23 - Palm Springs, CA (McCallum Theatre for the Performing Arts)
---
1/20/23 - Albuquerque, NM - 1/20/23 (UNM Popejoy Auditorium)
---
1/22/23 - Modesto, CA (Gallo Center, Mary Stuart Rogers Theater)
---
1/23/23 - Livermore, CA (Bankhead Theater)
---
1/25/23 - College Station, TX - (Texas A&M University, Rudder Theatre Complex)
---
1/27/23 - Wickenburg, AZ (Del E. Webb Center for the Performing Arts)
---
1/23/23 - Scottsdale, AZ (Scottsdale Center for the Arts)
---
1/31/23 - Butte, MT (Mother Lode Theatre)
---
2/11-2/12/23 - Overland Park, KS (Johnson Cty Community College, Polsky Theatre)
---
2/13/23 - Manhattan, KS - 2/13/23 (Kansas State University, McCain Auditorium)
---
2/16/23 - Conway, AR (University of Central Arkansas, Reynolds Performance Hall)
---
2/19/23 - Branchburg, NJ (Raritan Valley Community College, Edward Nash Theatre)
---
2/23/23 - Council Bluffs, IA (Iowa Western Community College, The Arts Center)
---
2/24/23 - Eau Claire, WI (Pablo Center at the Confluence)
---
2/26/23 - Manassas, VA (George Mason Univ., Hylton Performing Arts Center)
---
2/28/23 - Pittsburgh, PA (Pittsburgh Cultural Trust)
---
3/3/23 - Gettysburg, PA (Majestic Theater, Gettysburg College
---
3/5/23 - Park City, UT (Park City Institute, Eccles Center for Performing Arts)
---
3/8/23 - Boone, NC (Appalachian State University)
---
3/10/23 - The Villages, FL (The Sharon L. Morse Performing Arts Center)
---
---
---